I am a patient, friendly, fully qualified, I have a first time pass rate of nearly 90%.
In my most recent "ADI continued ability to teach" test I was one of only two instructors on the ADI register throughout Devon & Cornwall to achieve a pass mark of 100%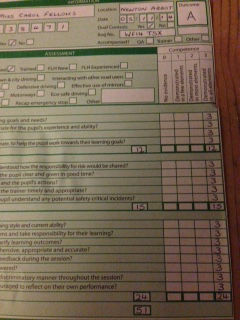 I do not work for a large company; therefore being a small independent school I can ensure that your lessons are tailor made to suit your personal requirements .This will ensure that you achieve your driving ambitions as easily as possible. You will be driving a fully insured, regularly serviced, dual controlled modern car with air conditioning. To enjoy learning to drive and to learn efficiently you need to be confident and happy with your choice of instructor. I will offer you a completely free no obligation first lesson so you can be absolutely sure you are happy with me without it costing you a penny!
All lessons are either 60 minutes or 90 minutes of driving from start to finish and I will follow a structured approach with each lesson. Lessons are planned in advance through the use of record cards so you and I have a clear aim for us to reach each lesson. You will be learning in a safe controlled environment and above all having fun and enjoying your learning experience.
During your driving lessons you will learn all the requirements you will need to pass your learner test and also other skills that go beyond that......do you want to just scrape through your test and then be nervous to drive in the dark for example? I will ensure that when you have passed your test you are not just a new driver but a confident, happy and safe new driver able to deal with today's hectic roads.
I have a large library of theory CD's, books and other learning materials which are loaned to you free of charge whilst you are learning to drive. I also hold free theory sessions where students can come and practice for the theory test with help from me. This means that our driving lessons are spent driving not sitting at the side of the road learning theory but still ensures that you are preparing yourself for the theory test.

Since 1999 I have helped 1000's of people realise their driving dreams, to most I have been their first and only instructor, to others I might have been their third or fourth!! Some have come to me having previously given up hope of ever driving through bad experiences. Some are from the same family often brothers or sisters years apart and to them all my aims remain the same. To teach you safe driving skills in a relaxed and friendly manner, I don't shout or get cross, if you don't understand I will patiently explain things until you do.
Will (Chudleigh) passed with 3 minors and only had 6 lessons.....way to go Will !!
.

.........."before learning with carol I was having lessons with another driving school. I dreaded my lessons and usually ended up in tears. A friend told me to ring carol and what a difference!! With her i felt confident and relaxed and she made everything seem so clear and easy. I am very happy to say that I passed first time with only 3minors and I only had 16 lessons with carol......"

Julie Kingsteignton
Carl (Chudleigh) 12 lessons and passed first time with 7 minors.
Josie (Preston) in excess of 40 hours of lessons but stuck with it and she did eventually pass and is loving her new found freedom.
Jo (chudleigh) passed 2nd time but flew through the test and had no driving faults at all